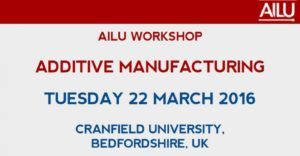 Our expert in additive manufacturing, Didier Boisselier, will present at the Additive Manufacturing Workshop: « 5-axis laser DMD developments at IREPA LASER ».
About the Additive Manufacturing Workshop
Date: 22 March 2016
Sector: Laser Additive Manufacturing
Location: Cranfield University, Bedfordshire, UK
Attendees: All welcome
This workshop is bringing together a range of speakers from industry and academia with a variety of perspectives on the state-of-the-additive-nation. The day will conclude with a tour of the first rate AM facilities at Cranfield.